° ANDALUCIA - SPAIN | WEEKEND BREAK WITH 2 WHEELS °
Days & €uros 2019
19.09-23.09 | thu-mon 05d

You & bike - 1190€

Passanger - 790€

Private room - 340€
Get rid of work, office or from whatever you want and give to yourself a fun motorcycle weekend break! Take a tour Andalucia which is full of fun biking roads. This is a long weekend and literally from curve to curve for 3 days from morning to evening! A journey, on which you drive with a big smile inside your helmet!
You will have under you the bike of your choice and the best roads in Southern Spain! We stay every night in the same good hotel in Malaga on the Mediterranean coast and you will drive with a light bike without any luggage!
One of the magnificent highlights on this weekend break is the Sierra Nevada, the crown of Costa del Sol! Historical Ronda has also a lot of sparks. The blue Smurf-village does not leave you cold! And Malaga itself is a beautiful vibrant city and the hometown of Pablo Picasso Even if you are not a museum person, Pablo Picasso's museum is worth a visit! Viva Spain!
Day 1 | Thursday | d
We which you are at our Hotel in Malaga latest 8 pm. Your room is ready from 2 pm. In the evening we will have dinner together. During the dinner we talk about coming days and get to know each other a little better!
Day 5 | Monday | b
If you do not have an early flight, have a relaxed breakfast and go to Picasso Museum if you have not been there yet! Check out time is 1 pm! If you have a late flight we are happy to store your luggage for as long as you need!
DAY 2 | Friday | b,l
Malaga - Ronda - Juzcar - Malaga | 293km, 6h 21m
After a good breakfast, we start in the morning sunshine towards the Torcal de Antequera Natural Park, where you can find great geological formations.
From Antequeras we head towards the west. Enjoying the gorgeous little sights, our direction turns slowly towards the south. After passing the Ronda City, we will soon arrive at Juzcar, the Spanish smurfs village. The village's buildings were previously white as in many Spanish villages, but in spring 2011 all the buildings - including the church - were painted Smurf blue when Sony Pictures celebrated the premiere of the Smurfs movie. From Juzcar we have the Mediterranean Sea in front of us when we drive from a fun curve to the next one all the way down to the coast!
DAY 3 | Saturday | b,l
Malaga - Sierra Nevada - Malaga | 372km, 6h 55min
Today we are heading towards the east. We're going to Nerja. From Nerja we drive to Lobres and the real fun part starts. From there, we continue to Sierra Nevada with breathtaking scenerys and awesome bends all the way to Granada. And yes, you can imagine, that the road up to Sierra Nevada is not the most boring one in the country! At Granada's Alhambra we have a luch break on the way up or on the way back.
From Granada to Malaga via northern route. We drive to the eastern edge of the Montes de Malaga Natural Park. From Montes de Malaga you will have one very special road down! A-7000 turns two times around itself with two 360-degree curves!
DAY 4 | Sunday | b,l,d
Malaga-El Burgo-El Bosque-Malaga | 351km, 7h 4m
Today from morning to west. We will head to Ronda where from we continue towards Zahara. The road to Zahara crosses the southern shore of a huge artificial lake, Zahara el Gastor. From the dam towards El Bosque. The serpentine road makes you smile even though there is no "railing" between the road and the gorge!
From El Bosque, we head towards El Ubriqueta and drive through the Sierra de Grazalema Natural Park lush green landscapes back to the coast and Estepona. From here through Marbella towards our home in Malaga!
Before the hotel we return our bikes. At the end, we will return the wheels after which the decision dinner and the rehearsal of the greatest experiences of the trip ;)
° SOME BASIC FACTS of ANDALUCIA WEEKEND BREAK °
THE PRICE INCLUDES
° A professional PeterPanBike tour leader
° Good midrange hotel in Malaga
° Small group, max 10 + 1 motorcycles
° Fuel
° Motorcycle & insurance for the bike! BMW 700-1200GS model are including the price. Harley Davidson is +200€.
° Breakfast 4x, lunch 3x and dinner 2x as on itinerary (b,l,d)
° Transport to / from rental shop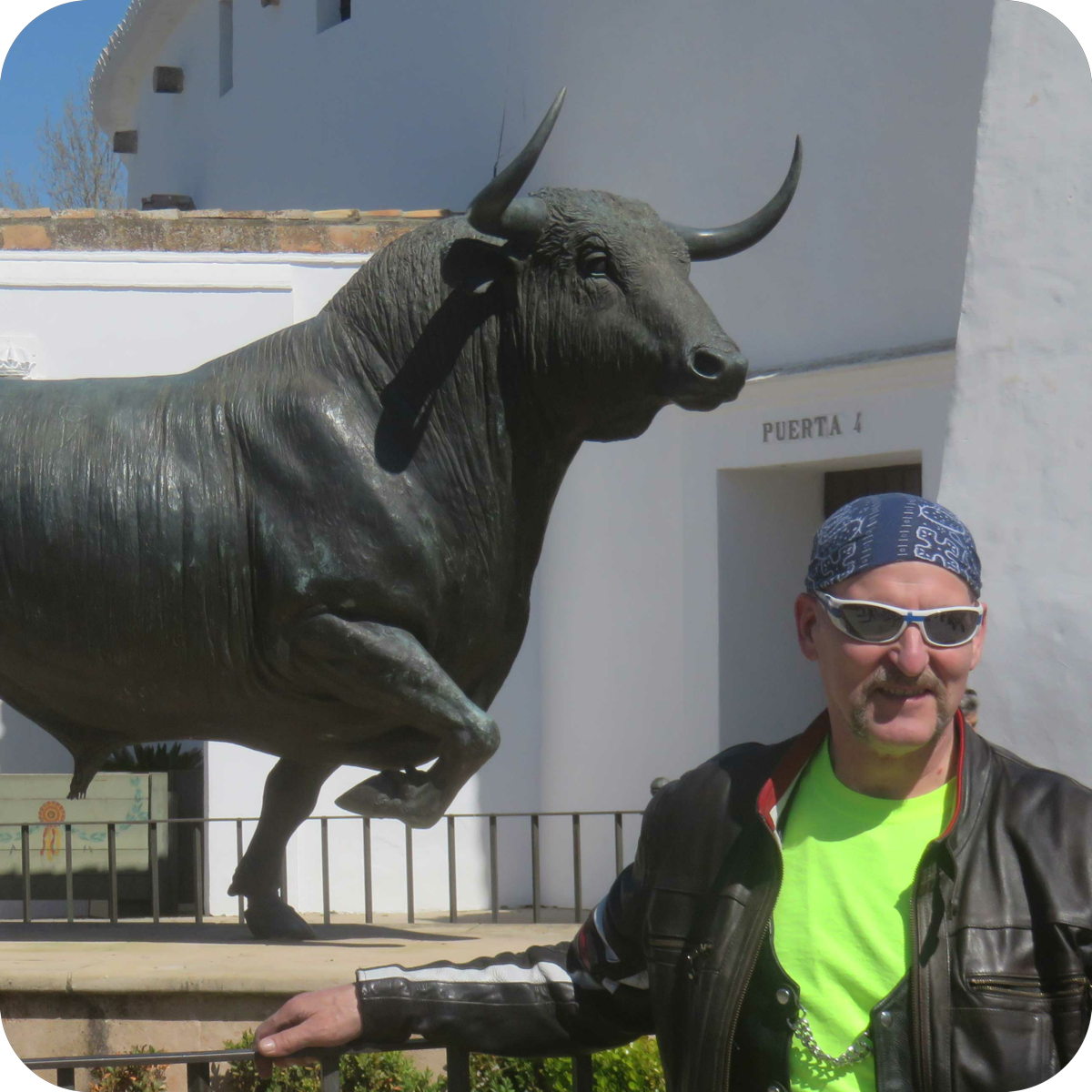 NOT IN THE PRICE
° Flights to / from Malaga
° Meals not in itinerary
° Drinks with meals
° Personal expenses
GROUP SIZE
° Max. 10 + 1 motorcycles
° No limits if own group
° This tour is very much ok for 2 on the bike!
ROADS ON TOUR
On this weekend break, we drive on paved roads. Some of them are literally small and very curvy. We use also partly main roads, but most of the time we stay and small fun roads which make you smile inside your helmet!
Nevertheless, this tour is easy and fun! But, because there is a lot of small narrow curvy roads, it is good for your own safety to have a few years of driving experience!
HOW DEMANDING
Driving days are not too long in kilometers! But there are a lot of bends so the days will be more or less full! About 8-10 hours, but you will enjoy every minute!
This weekend break is more for the driving than our 3 others; Nice, Cabo Da Roca and Archipelago! If you take with you your spouse who does not want to be on the bike, she or he can maybe get a bit bored… but just maybe! ;]
° START / END OF TRAVEL - This weekend break starts and ends from Malaga - Spain!
° TO/FROM MALAGA | AIR - Iberia has daily straight flights to most of the European capitals! Most of the European main airlanes has also flights to Malaga. Aeroflot has from Moscow to Malaga! From St Petersburg there are many choices with 1 change! Sky Scanner know all that is available!
° LANGUAGES - The tour is led in English! For Russian groups in Russia. No need to learn Spanish for traveling with us. However, you might pick up a couple words of Spanish during the tour! :]
° VISA - Russian citizens need a visa to Spain and it is possible to apply at least from Moscow and St Petersburg and… and online from whole the country! Residents from the European Community don't need a Visa for entering Spain. Australian, Canadian, American and Japanese need a valid passport. If you come from some other country, ask!
° ALLERGIES AND FOODS - If you have food allergies or special diets, please let us know before the tour starts! Normal vegetarian diet is no problem and we are pretty sure we find food for all other diets also!
° MORE FACTS - After booking you will get an info on all you need to know before the tour. Also the date of the webinar for your tour! And on the welcome dinner, your tour leader is going through many basic facts of the tour!
° BIKES - You will drive this weekend break with BMW GS 700/800/1200! Or with Yamaha; Harley Davidson; Street Glide, Road King, Road Glide and Heritage Softail! Sporster 883 Iron is also available!