ROUTE66 FINLAND | A FUN MOTORCYCLE WEEKEND to FINLAND
Route66... have you always dreamed? Now you can drive Route66 in 1 day from end to end! Not yet legendary Route66 Finland! From Lapua to Orivesi all day long! We drive the historic Route66 Finland from Vaasa to Tampere. We travel about 380 kilometers on our R66 day! The whole tour is a fun weekend break with 1000km! You fly in on Thursday evening. On Friday we take great countryside roads up to Vaasa from Helsinki. Saturday is your Route66 day! On Sunday we drive back to Helsinki and you are good to go latest 2pm!
You will see and experience; Finland's 'Texas' around Vaasa. Finland's 'Cadillac Ranch' in Koskenkorva West. Curvy roads covered by Sun (if it does not rain :)! From TV familiar (Finnish TV) Finland's 'Las Vegas', fabulous Tuuri! Not from anything familiar Ruovesi! Potentially beautiful Lapua. Dazzlingly beautiful Finland's 'Grand Canyon' at Hell Lake Nationalpark! The Tampere's famous Saloon Rodeo66 with its nightclub. Welcome to ride the future legend Route66 Finland!
We have a ready 4 days program for you! All you have to do, is to choose the days for your group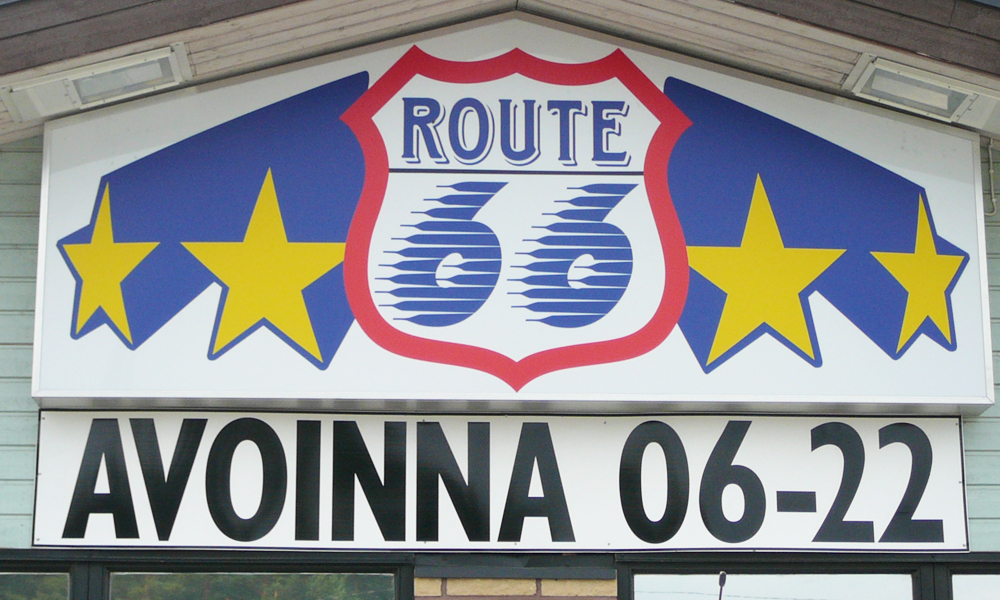 Driver & Rental Bike | from 1190 €
Driver with own bike | 790 €
Passanger | 690 €
Own room | 260€ €
ROUTE66 MOTORCYCLE TOUR TO FINLAND! DRIVE FUTURE LEGEND NOW!
- Meals which include the price are marked; b = breakfast, l = lunch, d = dinner -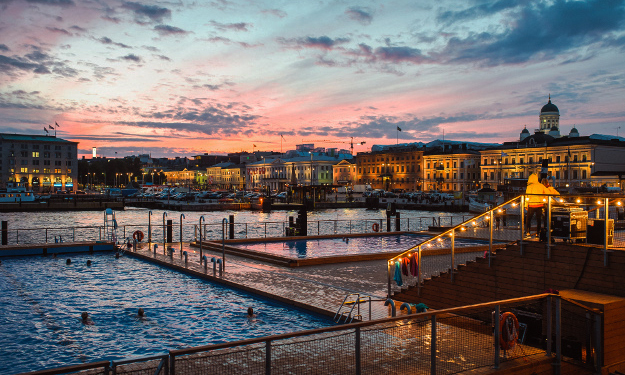 D 01 | > Helsinki | d
We wish you arrive at your Helsinki hotel until 9pm. On this tour you will stay in Helsinki city center. From the airport you reach your hotel easily by airport train or Finnair's airport bus. A bus is running every 20 minute and a train is running every 10 minutes. At 09.30pm you will have welcome dinner with your tour leader. During the dinner your tour leader will give you a lot of info on your coming weekend! If you have power in your personal batteries after dinner, we will take you for a little city walk to the beautiful Helsinki city center!
D 02 | Helsinki - Karkkila - Närpes -Vaasa | b,l,d | 471km
Showtime. Not Route66 yet today, but you will have a lot of great countryside roads. In fact we will take you immediately to small fun roads after leaving Helsinki and we stay on them all day long!
For lunch we stop in some small village where a foreigner is still an attraction and we have a lot of those places here!
Your day will end in the virile Vaasa, where we stay in the lively city center.
D 03 | Vaasa - Koskenkorva - Lapua - Orivesi - Tampere | b,l,d | 380km
Your colorful Route66 Finland day all day long! Koskenkorva West Ranch, 'Las Vegas', 'Grand Canyon', Club Rodeo, Saloon66. Night in Tampere which is the second biggest city in Finland.
At our first stop in Koskenkorva West Ranch you can buy all the Route66 souvenirs you need! And from there we drive to Lapua, the starting- and or ending point of the official Route66 Finland!
Päivä 04 | Tampere - Hämeenlinna - Helsinki | a | 170km
A relaxing morning and with a long buffet breakfast! Maybe you want also to take a city walk to Tampere city center! We check out 12 noon and take the fast motorway to Helsinki Airport. Tour ends and you can leave your bike at the airport! If you have a later flight, you can do some sightseeing drive around Helsinki area and leave your bike when it is time to fly.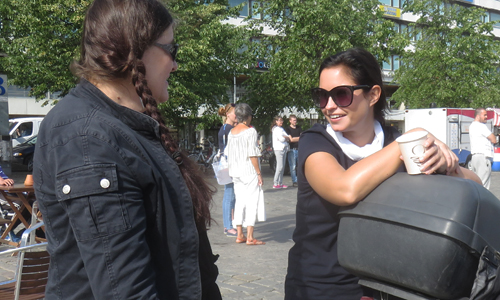 ° A professional PeterPanBike tour leader
° Good midrange hotels
° Service car for your luggage
° Small group, max 10 + 1 motorcycles
° Fuel
° Motorcycle Insurance
° Breakfast 3x, lunch 3x, dinner 3x
° Guided tour at Koskenkorva West Ranch
° Transfer to bike location
° Sauna every evening at hotels!
° Flights from/to Helsinki
° Meals not mentioned in the itinerary
° Drinks with meals
° Personal expenses
GROUP SIZE
° Max. 10 + 1 motorcycles
° No limits if own group
° This tour is very much suitable to drive with 2 on the bike!
This is an easy and relaxing tour! You drive on paved small countryside roads which have very light traffic! And yes, there is not too much traffic anywhere in Finland!
All roads we use are paved. And there is a service car for your luggage, so no problem if you took with you a little bit too much this and that!
This is much like the trip with 1 reindeer. Differences are that the driving days vary and are a bit longer. Hotels are 3-4 stars.
You do not need to be a CrossFit master for this tour. There are kilometers yes, but also enough breaks for pictures, coffee and to be with your group!
FLIGHTS TO / FROM HELSINKI
Finnair is flying several times a day to/from London and all European capitals. From Great Britan and Ireland there are daily straight flights also from Manchester Edinburg and Dublin! British Airways has also several straight flights from London to Helsinki!
DIETS AND ALLERGIES - If you have food allergies or special diets, please let us know before the tour starts! Normal vegetarian diet is no problem and we are pretty sure we find food for all other diets also!
LANGUAGE SPOKEN - This tour is guided in English! No need to learn Finnish for traveling with us. However, you might pick up a couple words of Finnish during the tour! :]
HOTELS - Hotels on this tour are good midrange hotels!
When you have paid your booking fee we will send you a Road Book about your tour and Finland. There is a lot of practical information for your tour and your destination! Feel free also to call us if something. Our number is +358 50 3568639 and our email mail@peterpanbike.com
VISA - No visa needed on this tour if you hold an European, North-American, Australian or New Zealand passport. If you come from a country where from visa is required, we help you with that!