° ST PETERSBURG HARLEY DAVIDSON DAYS 2019 is CANCELLED… 2020 it's COMING BACK AS BEST PETERSBURG °
Days & €uros - 2019
02.08-08.08-2019 | 7d
You & Bike 1790€

You with your own bike | 990€

Passanger 890€

Private room 460€
On August 1-4, 2019 at Ostrovsky Square, near Nevsky prospect, will take place the largest motor-event of Harley-Davidson® in Russia! St.Petersburg Harley® Days will take place in St. Petersburg for the 7th time as the biggest bike event in Russia. In 2018 about 90 000 guests from more than 30 countries took part in the Festival.
Our super-intensive program includes Grand motorcycle parade (4006 participants in 2018!) from Palace square to Ostrovsky square, test-rides of Harley-Davidson® motorcycles , Custom Bike Show, Stunt Riding Show, foam-party, fire-show, outstanding vehicles parade Crazy Wheels. We also have two stages of entertainment and life music, big trade fair, children's playground and fitness area. In total we can offer you more than 22 activities attractive for people of all ages whether they are bikers or not. And what is also important to remember all bikes are warmly welcome! St. Petersburg Harley® Days is held since 2011 with assistance of the Government of St. Petersburg, Harley-Davidson® Russia and CIS, the World club Harley Owners Group
° HOW IT GOES DAY by DAY? °
Finland | Helsinki | d
Welcome to Helsinki! Welcome to Helsinki! We hope you arrive to your hotel until 5pm! Then you have time to start your holiday with a very Finnish, Russian and Estonian habit, with a sauna! Welcome dinner is on the sea! You will have a 2-hour dinner cruise in the archipelago of Helsinki with your tour leader!
Finland - Russia | Helsinki - Wyborg - St Petersburg | 388km, 4h 58m | b,l
Go east! Picking up the bikes and drive to Old Porvoo for a second morning coffee or ice cream or so. From Porvoo to the border. When we have stamps in our passports we drive to Vyborg's Round Tower for a lunch! Vyborg is an old Finnish city annexed to Russia after the Second World War. In the evening. From Vyborg we have a 2 1/2 hour ride to St Petersburg. And yes, in St Petersburg you will fall into the Harley Days spirit fast. We drop our luggage and bikes to the hotel and go to the festival area in the heart of the city.
HARLEY DAYS ST PETERSBURG
Russia | St. Petersburg | 20km, 2h 2m :] | b
This is the main day of St Petersburg HD-Days... and a big thing today is to take part in the huge parade with your bike! Parade starts from the Palace Square, which is in front of Hermitage! In 2018 we had 4000 bikes in the main Parade! After the parade we are cultural and we go to the museum of Russian Vodka! And to the church... and not to whatever church, to St Isaac's cathedral. This is one of St Petersburg's main attractions. And even if you are not religious at all, St Isaac's cathedral is an impressive place to visit. Evening as you want at Harley Days festival area!
HARLEY DAYS ST PETERSBURG
Russia | St. Petersburg - Kronstadt - STP | 119km, 2h 16m | b,l
Around noon we drive to Vladimir Putin's home corners, to Kronstadt. It has been in the history also main port and defense fortress for St. Petersburg. Kronstadt is situated on the island of Kotline, in the Bay of Neva, at the bottom of the Gulf of Finland. This island was taken in 1703 from Sweden by Tsar Peter the Great. From Kronstadt, you will drive to mini-Versailles, Peter The Great's Summer Palace! And from Summer Palace we return to our hotel and go to take part in Harley Days ending ceremony!
ST PETERSBURG - NARVA-JOESUU
Russia - Estonia | St. Petersburg - Narva-Joesuu | 172km, 2h 36m | b,l
In the morning you will visit the fabulous Catherine Palace in Pushkin! It was the summer residence of the Russian tsars. More than 100 kilograms of gold were used to gild the sophisticated stucco façade and numerous statues erected on the roof!
After the huge palace it is time for a small lunch and the road to Estonia! When we have our stamps in our passports we do a short drive to the Spa city Narva-Joesuu. And as you already guessed, tonight is a spa evening!
NARVA-JOESUU - TALLIN - HELSINKI
Estonia - Finland | Narva-Joesuu - Tallinn - Helsinki | 311km, 6h 13m | b,l,d
From Narva-Joesuu you will have a little less than 3h drive before arriving at Estonian capital, Tallinn. Old Tallin in the city center is a pearl! An old Hansa-town full of small alleys between gorgeous buildings. And yes, we have to leave our bikes for an hour or two and take a walking tour to Old Tallin. Crossing the Gulf of Finland takes 2 hours. On the ferry we have a huge buffet. It is also a late lunch and farewell dinner! When we are on the soil of Finland, it is time to return our bikes, time to have a sauna and a sauna beer! And the city center is just behind the hotel door if you feel to enjoy Helsinki by night!
Finland | Helsinki > | b
End of the tour. Time to say thank you and goodbye... and we hope we see you again! If you have time, it is not a bad idea to spend an extra night or two in Helsinki! Your tour leader is happy to tell you what to do and what to see! You can also ask our office any time!
***
¡ Driving times given each day are non-stop -times according to Google maps ... ;) ¡
Sea Pools in City Center?
Yes, in Helsinki you can swim in a seapool in the heart of the city! And there is naturally a sauna also... actually 3. For Girls, Boys and Mixed!
° SOME BASIC FACTS of ST PETERSBURG HARLEY DAYS °
IN THE PRICE
° Professional PeterPanBike
Tour leader
° Accommodation in good 3-4 star hotels
° Breakfast 7x (days 2 - 8)
° Lunch 4x (day 2&3 adn 5&6)
° Dinner 2x (days 1 and 6)
° Motorcycle rental
° Motorcycle insurance
° Fuel
° Secure parking in St Petersburg
° Entrance fees to Peterhof & Catherine Palace
° Entrance fees to Vodka Museum & St Isaac's church)
° Tallin - Helsinki Ferry
° Transfers to/from bikegarage
° Picture book from tour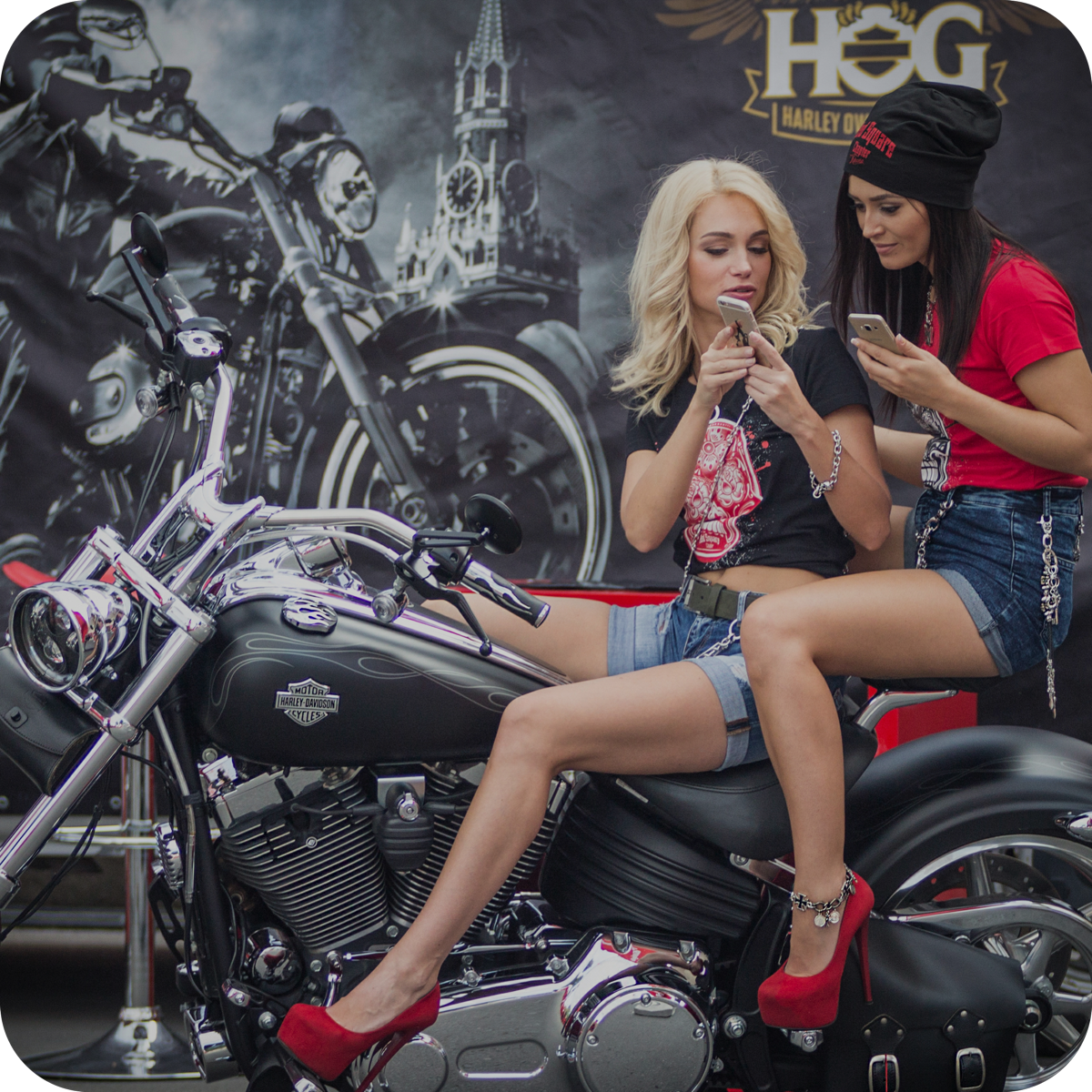 NOT IN THE PRICE
° Flights to/from Helsinki
° Visa to Russia
° Meals not mentioned in itinerary!
° Drinks with meals
° Personal expenses
GROUP SIZE
° Max. 14 + 1 motorcycles
° This tour is very suitable to drive 2 on a bike!
° No group size limits if own group!
PRIVATE GROUP?
° Possible, ask!
ROADS?
On Harley Davidson Days St Petersburg tour we drive on paved roads. And in this part of Russia the quality of roads are not any better or worse than in Finland... mainly! The coastal road from Wyborg to St Petersburg is beautiful, but not the best road in Russia. Although it is not too bad and we take it easy!
Watch a video from 2016 HD-Days by ProLast Studios!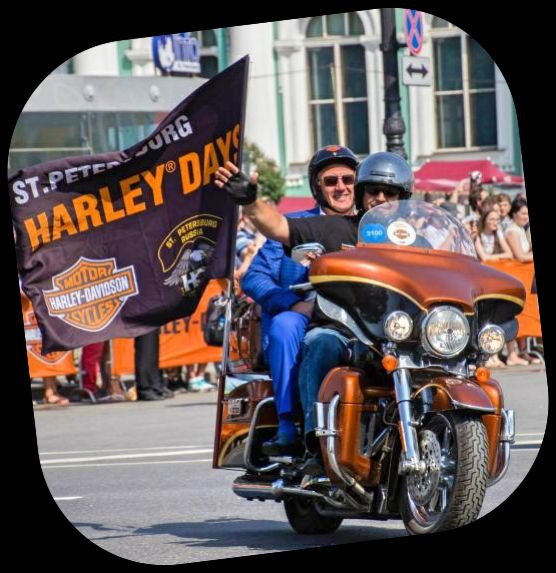 HOW DEMANDING?
This is much like the trip with 1 reindeer. Differences are that the driving days vary and are a bit longer. Hotels are 3-4 stars. If there is a luggage car, it is mentioned in the section 'what is including the price'. Km per day between 150 and 350.
° GOOGLE MAP IN HEADER - It is going more or less like this! But every tour is unique and a bit different, which means that the map does not show the exact route always!
° TO/FROM HELSINKI | AIR - Finnair is flying several times a day to/from European capitals. There are also several straight daily flights from Asia and North-America. From the Middle East, Finnair's partner airline Qatar Airways is coming up here daily from Doha!
FINNAIR | QATAR AIRWAYS | SKY SCANNER
° TO/FROM HELSINKI | SEA - Viking Line's and Tallink Silja's huge ferries are coming daily from Sweden and Estonia. Finnlines is coming daily from Germany!
VIKING LINE | TALLINKSILJA | FINNLINES
° BIKE - Come with you own or drive with ours! All brands are very much welcome, You do not need to be a HD boy or girl! :] ... our bikes for St Peterburg tour you can see from the tours bookin page > BIKES FOR HARLEY DAYS
° START / END OF TRAVEL - This unique tour starts and ends from Helsinki - Finland! If you come with your own bike and want to continue home from Tallin by road, so no problem. We take ferry tickets and last night in Helsinki away from the price!
° PRICE - The price of this tour is based on 2 person per room!
° VISA - We all need a visa to Russia! We help you with that and give you detailed instructions how to apply it!
° LANGUAGES - The tour is led in English! No need to learn Finnish or Russian for traveling with us. However, you might pick up a couple words of Finnish and Russian during the tour! :]
° ALLERGIES AND FOODS - If you have food allergies or special diets, please let us know before the tour starts! Normal vegetarian diet is no problem and we are pretty sure we find food for all other diets also!
° MORE FACTS - After booking you will get an info on all you need to know before. Also the date for the webinar of the tour! And on the welcome dinner, your tour leader is going thrue some basic facts!