TRANS SIBERIA ADVENTURE | ESTONIA - RUSSIA - KAZAKSTAN - RUSSIA - MONGOLIA - RUSSIA | 4 countries 42 days and 14000km
Once in the Lifetime Tour! Trans Siberia! Is it on your bucket list? To drive all the way across Siberia to Vladivostok! Now you have a great opportunity to make your dream come true! And you do not see only Siberia. On this Big Adventure, we drive also via unique Kazakstan and unforgettable Mongolia! Your start from homy Tallin and 42 days and 14000km later you arrive at the shores of Pacific Ocean!
On this adventure, you will experience famous and fabulous cities like St Petersburg, Moscow, Astana, Ulan Bator and Irkutsk! And cites you have never heard about like Uralsk, Onguday, Altanteel, Erdenesant, and Bikin. You will also experience unique places like world's first space center "Baikonur" in Kazakhstan, awesome Lake Baikal, Moscow's Red Square, magnificent Altai Mountains, a night or two in a ger-camp, Tzingis Khan Square in Ulan Bator and yak butter tea!
° SOME BASIC FACTS of TRANS SIBERIA ADVENTURE °
IN THE PRICE
° Professional PeterPanBike Tour leader
° 2 tour webinars before the tour
° Bureaucracy packet for visas. All you need know and application forms!
° Fuell, Road tolls & Parking fees
° Accommodation in good 1-5 star hotels. Mainly 3 stars. You have also a couple ger camp nights in Mongolia!
° Breakfast 41x (days 2 - 42)
° Lunch 33x (every driving day)
° Dinner 34x (welcome & every driving day)
° Bike transfer from Vladivostok to Tallin
° Picture book from tour
NOT IN THE PRICE
° Flights / Transport to Tallin and from Vladivostok
° Visa to Russia, Kazkastan & Mongolia
° Lunches & dinners on the days off
° Drinks with meals
° Personal expenses
GROUP SIZE
° 10 + 1 motorcycle
° This tour is possible to do also 2 on bike if you are an experienced biker!
PRIVATE GROUP?
° Possible, ask!
ROADS?
There is some gravel- / dirt-roads in Mongolia! And depending on the weather, they can be more or less interesting if it is raining. But do not worry too much, there is always someone to help if needed!
In Russia and Kazakstan we drive on paved roads if we do not take some fun shorcut on a sunny day!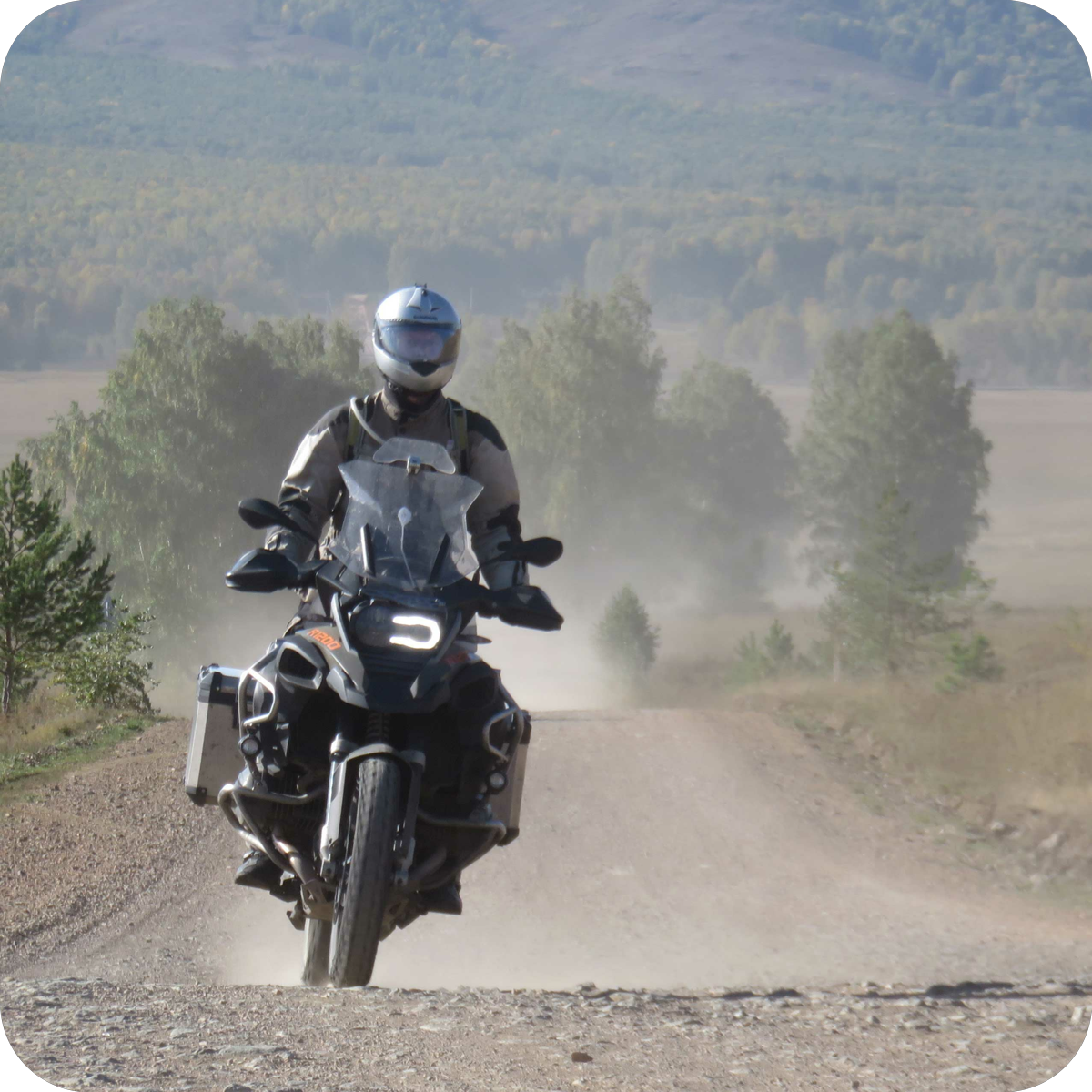 HOW DEMANDING?
This can be a bit extreame specially in Mongolia! You will also have some long days! And even roads are paved in Russia and Kazakstan the condition is variable from the best to the worst and sometimes and in Mongola there are not even roads from time to time ;).
So yes, this is not for beginners. However it can be the first long run if you have a open mind and years of biking behind you! Ask us if you hesitate!
GOOGLE MAP IN HEADER - It is going more or less like this! But every tour is unique and a bit different, which means that the map does not show the exact route always!
BIKE - We suppose that you want to drive this adventure with your own All Road bike! Honda Trans Alp and Yamaha Tenere 660 are as good as 1200cc bikes! But that said, if you are coming from overseas, a rental bike is possible. Ask!
BIKE RETURN - All the bikes are coming in a truck from Valdivostok to Tallin. Bike truck is in Tallin 20 days after it's departure from Vladivostok. We can keep your bike in our garace a couple weeks or what needed, before you pick it up!
START / END OF TRAVEL - This adventure starts from Tallin / Estonia where from we start the driving. This tour ends to Vladivostok / Russia where from you can fly home!
PRICE - The price of this adventure is based on 2 person per room! However, there will be a couple ger camp nights when there are several bikers in the same yurt! It is possible to have an own room for all hotels, but not for the yurt!
VISA - We all need a visa to Russia, Kazakstan, and Mongolia. Detailed rules (such as the validity of the passport, maximum residence time and vaccination requirements) will be settled together before the trip.
CARNET DE PASSAGE? - No, that we do not need that in this adventure!
LANGUAGES - The tour is led in English!
ALLERGIES AND FOODS - If you have food allergies or special diets, please let us know before you travel. We will organize food for you!
MORE FACTS - Before the tour, we will have 2 webinars where we talk many words about the tour, bikes, and types of equipment! You will also get a road book with a lot of facts about Trans Siberia adventure!